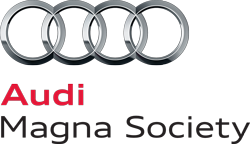 As one of the top performing U.S. dealers throughout 2015, Circle Audi has again been identified by Audi USA as an
Audi Magna Society
honoree, 6 years in a row!
Audi established the Magna Society to recognize U.S. dealerships that go above and beyond the standard business objectives and sales targets.  The Audi Magna Society Award honors the best among all U.S. Audi dealers.  To earn the award, Circle Audi has provided superlative customer service while still achieving strong overall business performance in 2015.  To qualify, dealerships can't just meet or exceed sales targets. They must show that they are engaged in sales and service programs and adhere to specific business processes. Their facility and staff should also properly represent the Audi brand and culture.
"Each year the number of Magna Society Award recipients increases, a testament to the elite caliber of the Audi dealer network in the United States" said Mark Del Rosso, EVP and Chief Operating Officer, Audi of America. "As Audi continues its rise as one of the top luxury brands in the country, the commitment of our dealer partners is one of the key drivers of this success."
We at Circle Audi know that customer satisfaction plays a vital role in our business and are appreciative of our customers' praise and continued business.  We are very proud of the team we have at Circle Audi and the wonderful customers who come through our doors every day.